Production cycle body below the production and processing heading
Green Aquaculture Technology
The use of green aquaculture technology Starting from hatchery and grow-out facilities until processing. We implement modern system information from wireless transmission, sensors, proprietary software, and IoT until remote automation to prevent food waste, excessive energy use, and environmentally friendly use.
We are installing a 50-megawatt solar plant across the 6 locations of our grow-out facilities. The project is expected to be one of the largest solar-aquafarms in Indonesia. The breaking ground on the site is scheduled for June 2023.
Once constructed, the project will produce 55,000 megawatt hours of renewable electricity a year, saving 36,850 tonnes of carbon dioxide emissions annually.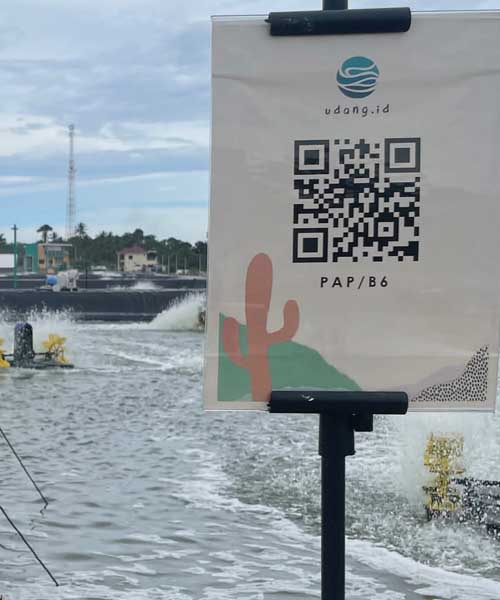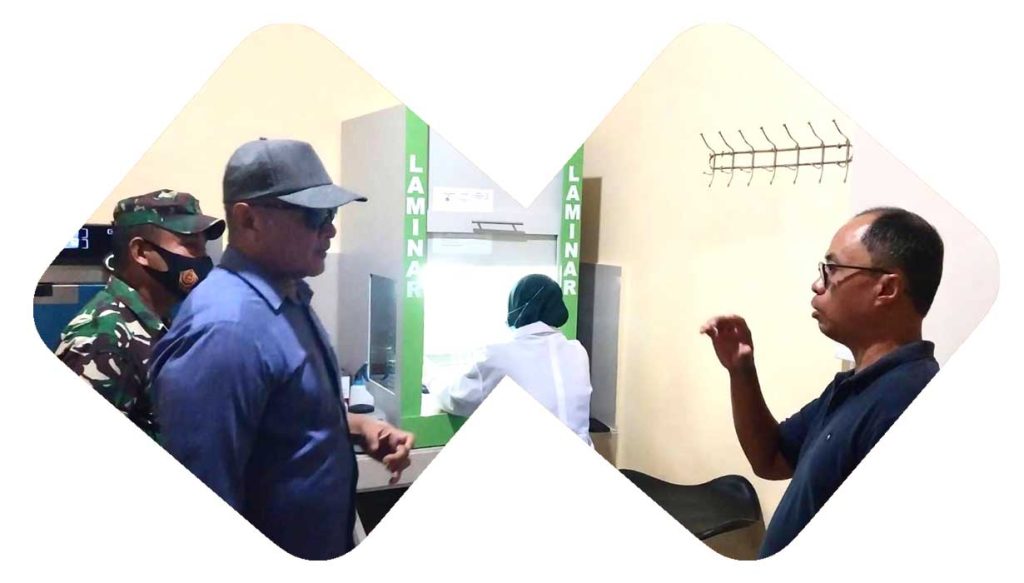 Our farm design and facilities have been designed to be environmentally friendly. We not only maintain a greenbelt of mangroves, we are actively planting mangroves between 50 – 100 meters in width along the coast, which not only protect water erosion but also maintain the water quality by absorbing some of the waste nutrients.
The waste water from the farm is treated before being released back into the sea through a process from sedimentation trap, aerated in the oxidation ponds to eliminate substances and ammonia, and finally processed using our proprietary UV system.
The most important fundamental in the success of shrimp farming is the application of biosecurity and water quality management. The main focus of our company is to maintain water quality from the process of water intake up to the treatment of waste during the cultivation process so that the discharged water is up to the standard of seawater threshold.
Our pond is equipped with a laboratory with staff and experts who are experienced in the field of shrimp farming.
We believe the pond conditions in shrimp farms are a measurable dynamic, hence, the treatment also need to be measurable. In this laboratory, we test the quality of the water and shrimp using the Polymerase Chain Reaction (PCR) method to see the presence of harmful pathogens. In addition, this laboratory is used to observe the dynamics of ponds in terms of physical, biological, and chemical.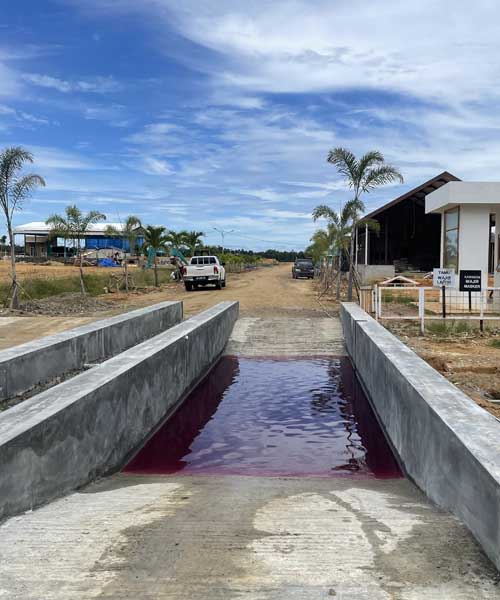 We conducted a series of tests on the fry we use. PCR testing of fry that has arrived on site is the main procedure that must be carried out to ensure that during the stocking process, no fries are infected by shrimp disease, such as White Spot Syndrome Virus (WSSV), Taura Syndrome Virus (TSV), Infectious Hypodermal and Hematopoietic Necrosis (IHHNV), Infectious Myonecrosis Virus (IMNV), Enterocytozon Hepatopenaei (EHP), and Early Mortality Syndrome (EMS). Due to the success of this procedure, our fry can meet Special Pathogen Free (SPF) criteria. In addition, we also have a certificate of Good Fish Farming Practices (CBIB) with an EXCELLENT value, issued by the Ministry of Marine Affairs and Fisheries, Directorate General of Aquaculture.